Producers
May 31 Reporting Deadline for 2017 sales data.
As a producer, you are required to report new tire supply information by May 31 of every year. This is used to establish your used tire collection target for the following year. You will also be required to pay your annual registry fee to RPRA at that time. OTS supplied Producers in the Summer of 2018 with a summary of supplied data for the years 2014, 2015, 2016 and 2017.  If you have lost or misplaced this summary from OTS you can request a new print out from OTS before they shut down permanently. 
This year, you are required to report your new tire supply data for the year 2017.  Which along with your previously reported supply data for the years 2015 and 2016, will be used to set your collection target for 2020.
The RPRA 2019 new tire reporting registry opens on April 1, 2019 at www.rpra.ca . You are required to report your new tire supply information by May 31, 2019. Under RPRA regulations, PROs cannot report on new tire supply information.
If you have any questions or concerns, we would be happy to speak with you. Contact us at info@yessolutions.ca for more details.
New Invoicing Details from YESS
YESS has moved to harmonize our monthly invoicing. YESS invoices will now be generated
on the 15th of each month.
We will be charging a 10 per cent late fee on the amount owing past the customary net
30-day deadline, as stated in your agreement.
Do Your Invoices Comply with the Tire Regulation?
According to the Resource Productivity and Recovery Authority (RPRA), producers and first importers have some latitude when it comes to language with respect to showing environmental fees on invoices, receipts, advertisements and quotations.
RPRA does not require that fees be shown on the receipt. If you choose to do so, you must meet certain criteria.
If a retailer decides to show these costs as a separate charge to a consumer, the retailer must do so in accordance with the requirements set out in the Tires Regulation (O. Reg. 225/18).
These requirements include:
• Specific information must be provided to the consumer about the charge. An example of an acceptable statement in relation to a separate resource recovery charge is:
[Name of Producer] is responsible for imposing this charge. It is being used to recover the cost of collecting and recycling the tires you are buying today when they have reached the end of their life and are returned by you.
• The charge must accurately reflect the costs incurred in relation to resource recovery (e.g. associated fees from YESS and RPRA, audit and administrative costs, any other costs incurred to ensure you are compliant with the regulation);
• A report and audit must be submitted each year relating to how the charge was used.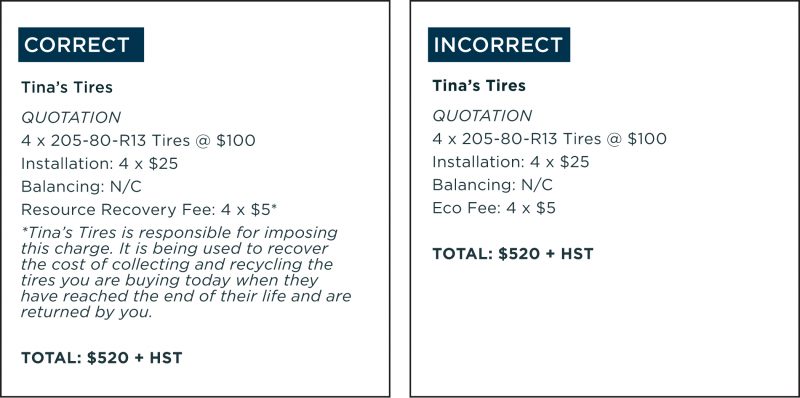 Ensuring You Remain Complaint
The Act states that on each producer's website, the following information must be clearly displayed:
1. The locations of the producer's tire collection sites for each tire type, where consumers may return tires at no charge;
2. A description of any collection services provided by the producer that are available other than at a tire collection site;
3. A description of the resource recovery activities engaged in by the producer in the course of managing the producer's collected tires.
The Act also requires that producers to provide clients with a list of tire collectors across the province. YESS has provided a list on our website at yessolutions.ca/tire-recycling-locator. You can copy the link to your website to maintain compliance if you have not already done so.
YESS has provided sample language that you might choose to use on your own website.
Example: 
As we are the responsible producer of the tires we sell and import into Ontario we have partnered with YESS to manage our products' end-of-life management.
Via YESS's network management, we, the producer, pay for the collection, transportation and management to responsibly recycle our tires into new rubber products. To help you
help us to recycle your tires at the end-of-life, please click here to find a location nearest to you where you can drop off up to 10 tires
off the rims at no charge.
Why Your Collectors May be Asked to Register your Collection Sites with More than One PRO?
Flexibility! Why would a hauler ask your collection locations to register with more than one Producer Responsibility Organization (PRO)? It gives flexibility to the hauler, who can scan for QR codes based on capacity. If one processor is down (maintenance, fire, etc…) then the hauler has the ability to take tires to another processor in the area that may be with another PRO to ensure they can continue to provide you with uninterrupted service. YESS supports the open marketplace and of haulers to have the choice to properly service their customers.
We have no concerns with a few loads going elsewhere to ensure uninterrupted service for our clients. Registering with multiple PROs is easy and free.
This is Our Logo,
Now We Need Yours
We are proud of our logo and we know you are proud of your logo, too. YESS would love to display your logo on our website as we are proud to have you as our client. Submit your digital logo to us a communications@yessolutions.ca and it will join our growing list of companies with which YESS is proud to do business.
Of course, we would be happy to do the same for you as well. Let us know and we will include a high-res version of our YESS logo to be displayed on your website.